Our Accreditation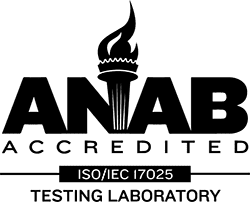 The ANSI-ASQ National Accreditation Board (ANAB) is an international accreditation body based in Milwaukee, Wisconsin. CBI (and its predecessor, SBCRI) has maintained ISO/IEC 17025 accreditation since 2009 and is audited by ANAB on an annual basis. This is a rigorous standard that assesses the competence of testing and calibration laboratories.
Using traditional standards for product testing and our own proprietary approach to full-scale testing, ANAB certifies CBI for these testing techniques:
Gravity
Uplift
Lateral
Cyclic
CBI continues to increase the number of standards under which it is accredited to meet the needs of our customers with our testing services.
See Our Accredited Standards Download PDF: CBI ANAB 17025 Accreditation (PDF)