Our Accreditation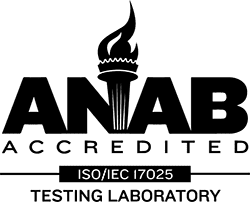 The ANSI-ASQ National Accreditation Board (ANAB), is an international accreditation body based in Milwaukee, WI. CBI and its predecessor, SBCRI, have maintained ISO/IEC 17025 accreditation since 2009 and are audited by ANAB on an annual basis. This is a very rigorous standard that assesses the competence of testing and calibration laboratories.
CBI is ANAB certified for gravity, uplift, lateral, and cyclical loading techniques, using traditional ASTM standards for component testing and CBI's proprietary approach to full-scale assembly testing. CBI continues to increase the number of standards under which it is accredited so it can certify the wide variety of tests it performs, including small-scale tests of component elements as well as full-scale tests of components and entire buildings. CBI even replicates and tests in situ structures to give companies a better understanding of the real-world performance of their products.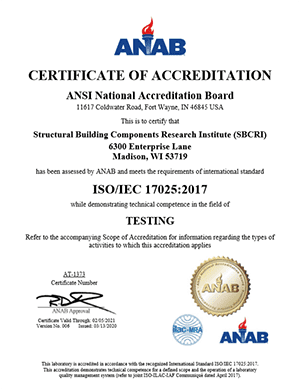 CBI's capabilities, as demonstrated by the ongoing addition of accredited reference standards, ensure accurate results from testing the performance of a wide array of building construction methods, materials and interconnectivity products. CBI's testing quality control process includes monitoring and measuring the load applied by actuators as it moves through the assembly or element, and then measuring all the reaction loads at the foundation. All of CBI's testing measures both loads in and loads out to verify they are equal as expected, validating the accuracy of the measurements taken during testing.
Download PDF: CBI ANAB 17025 Accreditation (PDF)